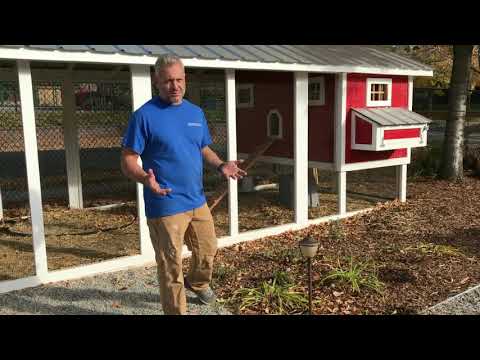 Custom Carolina Chicken Coop in Denver, CO - FAQs Answered
Matt answers some of our frequently asked questions during a chicken coop walk-through for school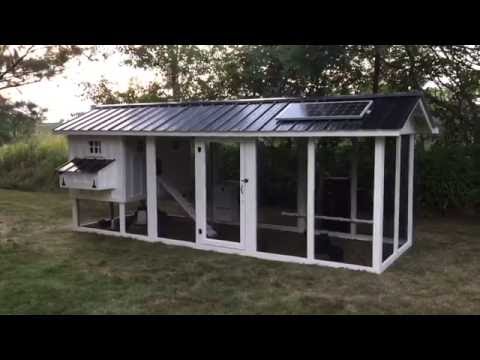 Our Bestselling Chicken Coop
An overview of key features and available upgrades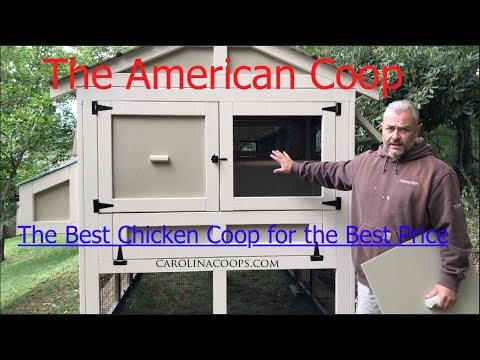 American Coop with HDPE
The American Coop using High Density Polyethylene (HDPE) inside the henhouse for the deep litter method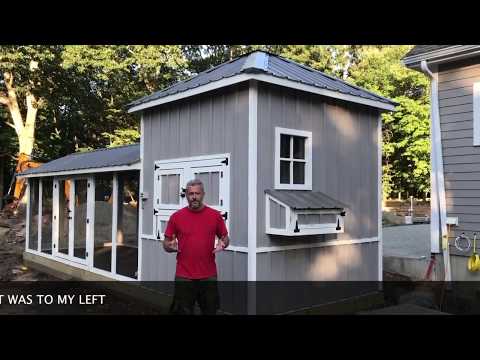 Shed Style Chicken Coop in Boston, MA
A walkthrough of our latest and greatest design in a custom chicken coop by Carolina Coops in Milton, Massachusetts, just outside of Boston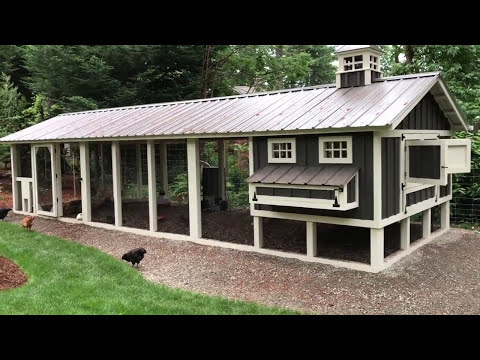 Custom Chicken Coop in Seattle, Washington
A walkthrough of a custom-made Carolina Coop in Seattle, Washington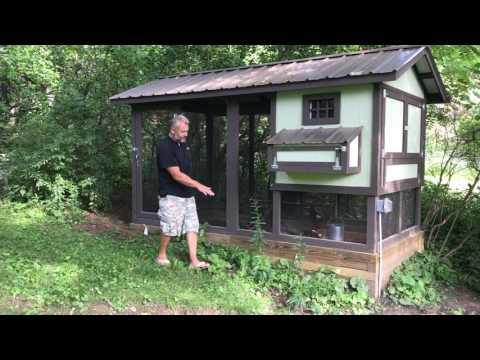 Custom Chicken Coop by Carolina Coops in Ithaca, NY
We custom painted this chicken coop in Ithaca, NY to match the client's house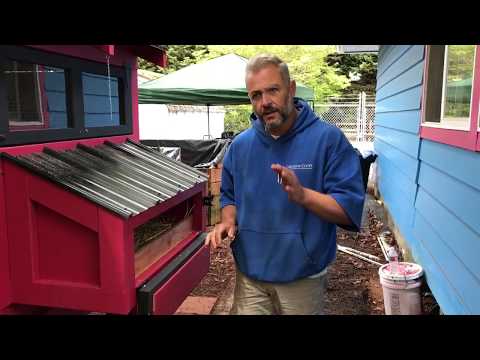 The American Coop Chicken Coop
The American Coop is the best chicken coop for the best price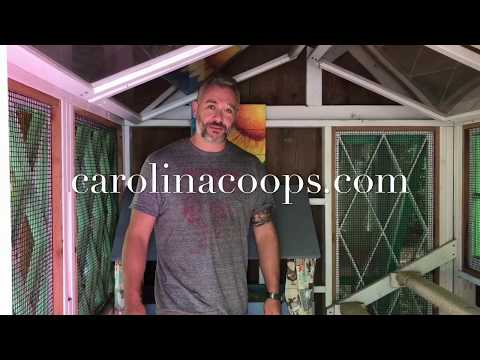 Custom Carolina Coop Follow-Up
Here's a follow-up to a custom-made Carolina Chicken coop in Raleigh, NC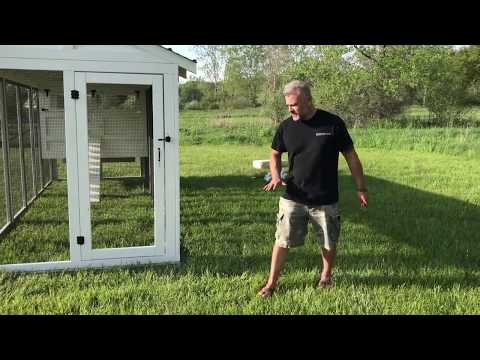 How to Install a Predator Apron Around a Chicken Coop
How to install a predator apron around a chicken coop to keep animals from digging underneath into the chicken coop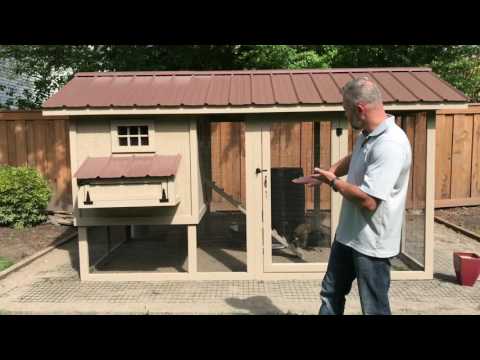 What to Put Inside a Chicken Run
Video explaining what to put inside your chicken run to make your chickens happy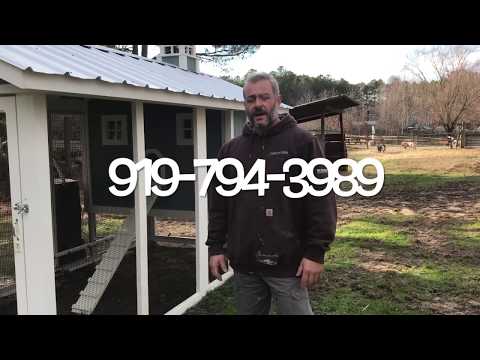 Carolina Coop at For Garden's Sake Nursery
A beautiful Carolina Chicken Coop built for a nursery in Durham, NC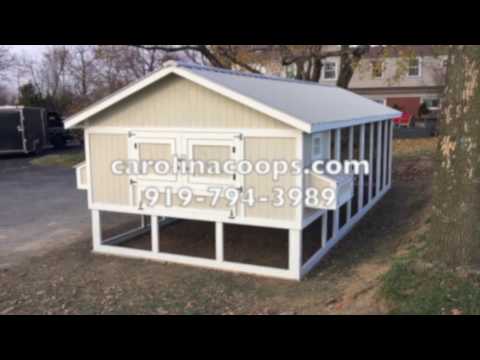 Custom Carolina Coop with 10'x24' Run & 4'x10' Henhouse
This large custom-made Carolina Coop is ideal for up to 20 standard chickens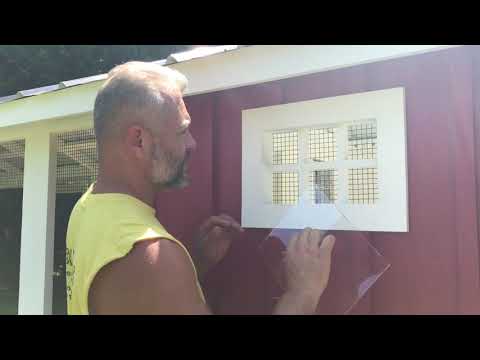 Polycarbonate Window Inserts
This new design allows you to open and close the windows from the outside of the coop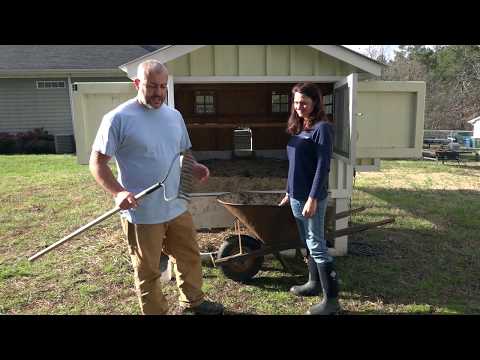 Deep litter cleanout
This method allows you to clean out your chicken coop's hen house once a year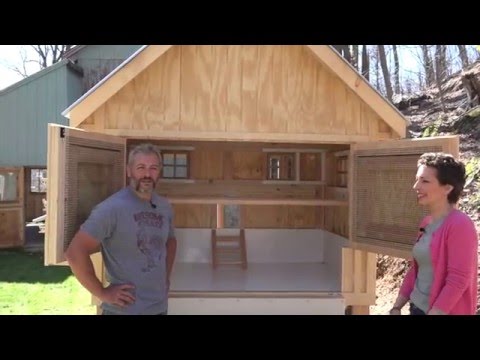 Carolina Coop customer walk-through
Customer walk-through discussing some of the key features to the Carolina Coop.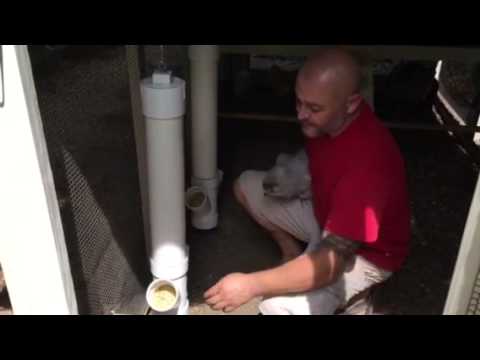 DIY PVC chicken feeders and waterers
A great way to help stop chicken feed waste and happier healthy chickens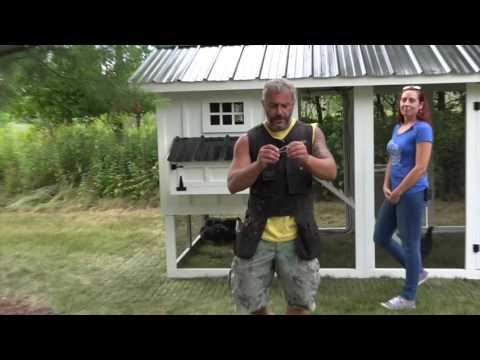 Carolina Chicken Coop Customer Walk-Through: Part I
This video shows a custom designed Carolina chicken coop in Denmark, WI, with a walk-through with the customer.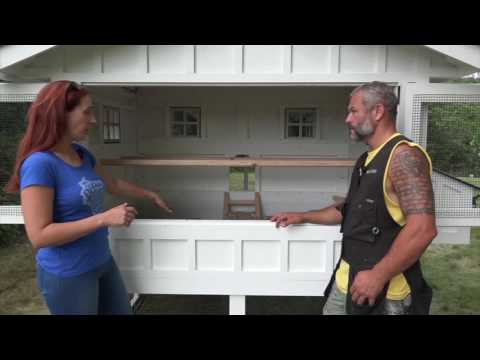 Carolina Chicken Coop Customer Walk-Through: Part II
This customer-walk through discusses all the features inside the henhouse.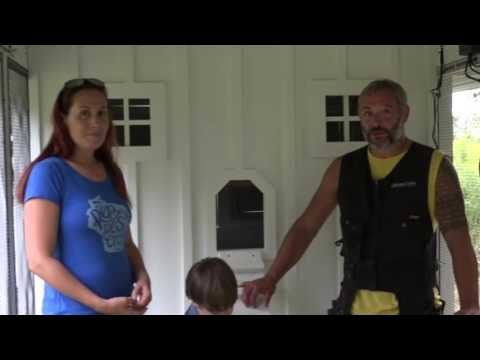 Carolina Chicken Coop Customer Walk-Through: Part III
This is the third part of a walk-through with the customer and discusses the the features inside the run.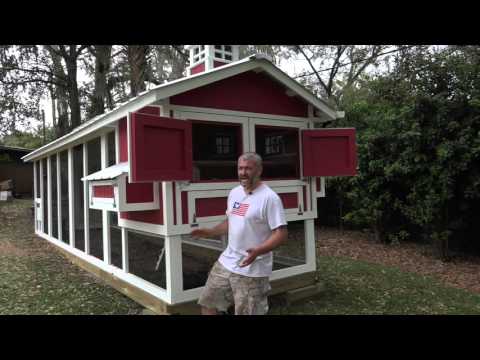 Henhouse Screen Doors
Our doors on the back of a chicken coop are an option to allow more ventilation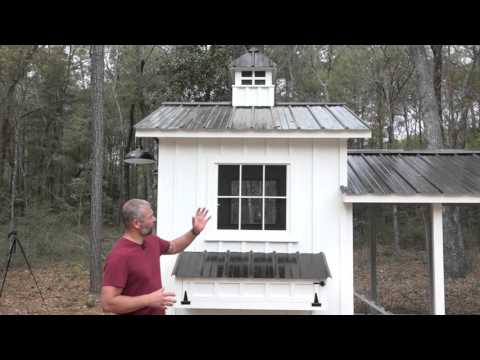 Hand Made Functional Cupolas
We custom make all the cupolas that go on top of our chicken coops.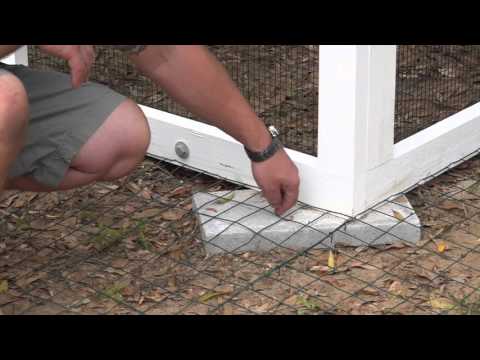 Predator Apron Installation
How to install the apron so predators can not dig under your chicken coop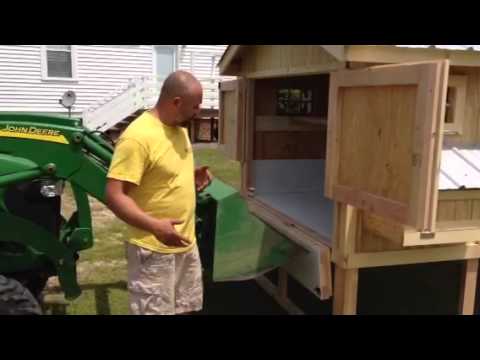 Tractor bucket to clean out henhouse deep litter
Just another example how easy easy a Carolina Coop is to clean.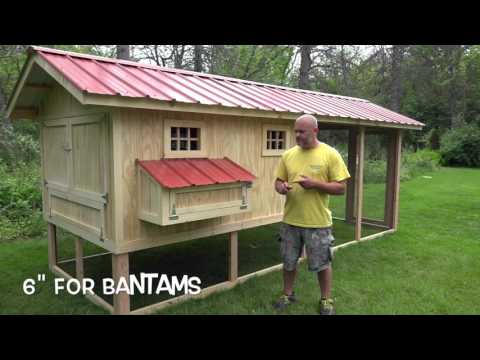 Size Does Matter
The right size henhouse for the number of chickens you want.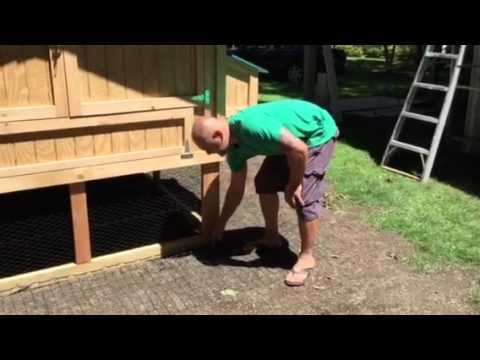 Chicken coop predator apron
Here's how easy it is to keep animals from digging under your chicken coop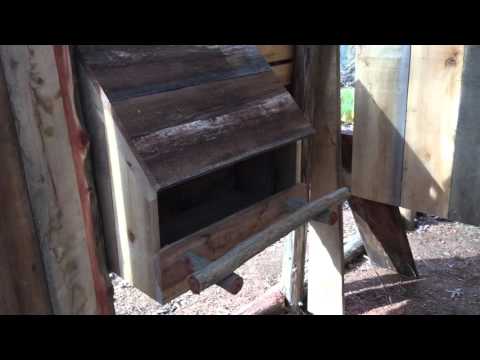 Rough cut lumber nest box
Our rustic chicken coop in progress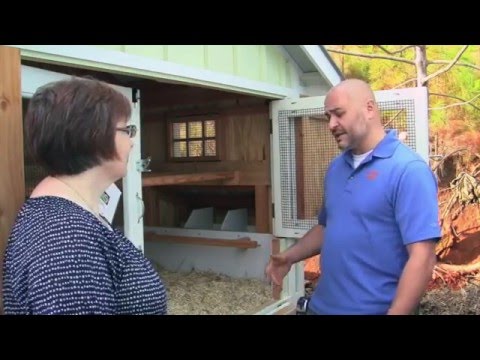 Carolina Coops & American Hemp
The benefits of the deep litter method inside a chicken coop with
industrial hemp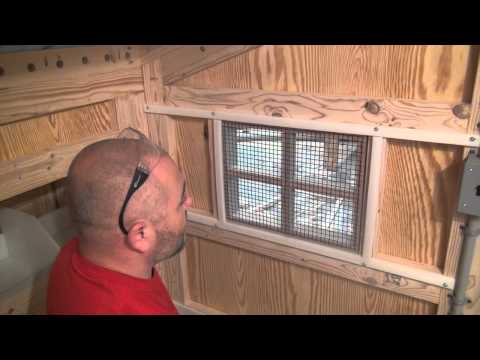 Polycarbonate Window Sliders
These sliders great to help control ventilation into your henhouse chicken coop.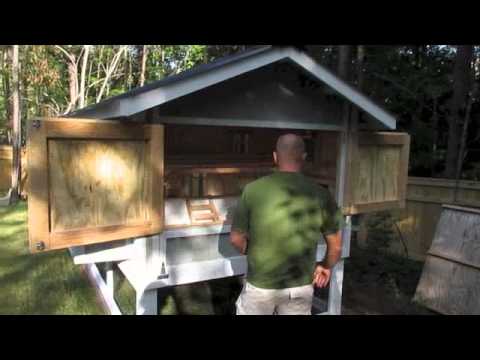 Overview of the Penthouse Coop
Details of our most popular chicken coop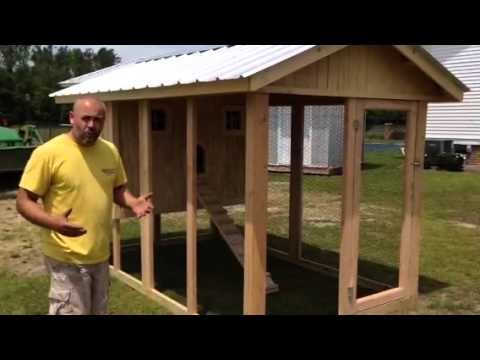 Why you want a solid roof over your run
Our chicken coops have roofs to keep chickens safe and dry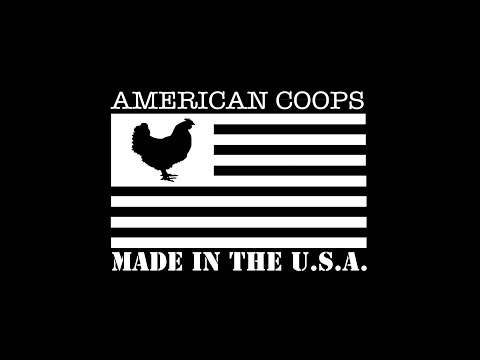 American Coop Kit intro
This chicken coop kit is available to be shipped anywhere in the USA and Canada.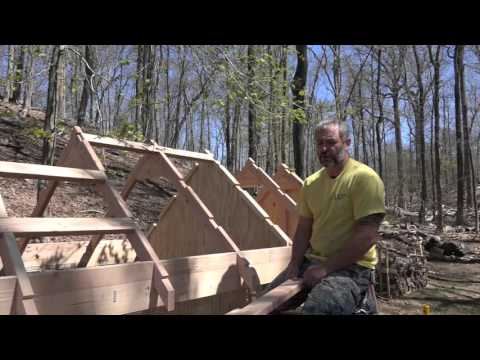 Carolina Coop Roofing System
Our roofing system for all of our chicken coops is notched and cut precisely so that anyone can easily assembly our coops.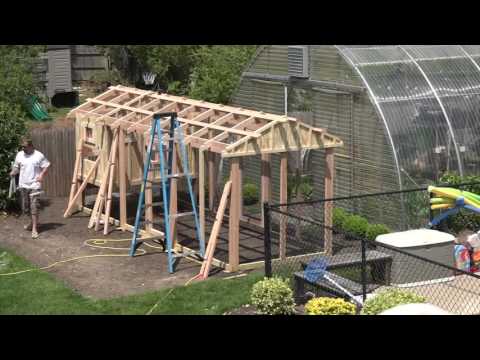 Carolina Coop Assembly
Quick look at a Carolina Coop being assembled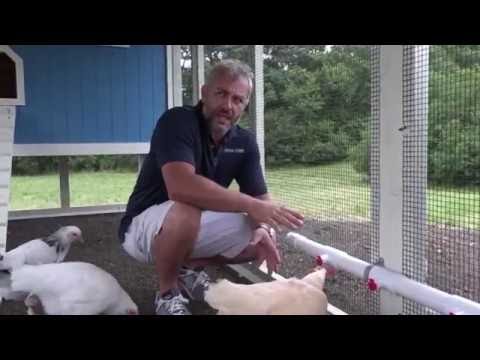 Chicken Coop Rain Barrel System
Chicken coop rain barrel system that allows keeping chickens that much easier.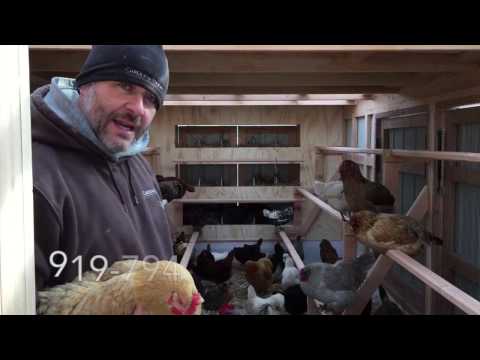 Trailer Chicken Coop
A unique trailer chicken coop made with all metal siding and roof.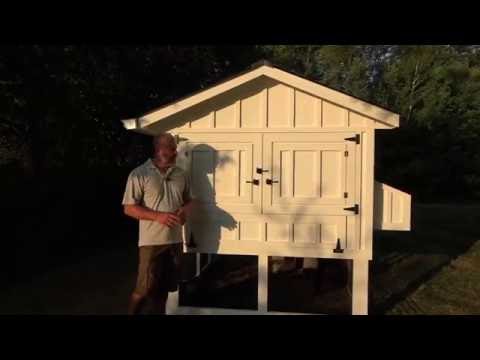 Another Look at the Carolina Coop
Here is another look the very popular Carolina Coop.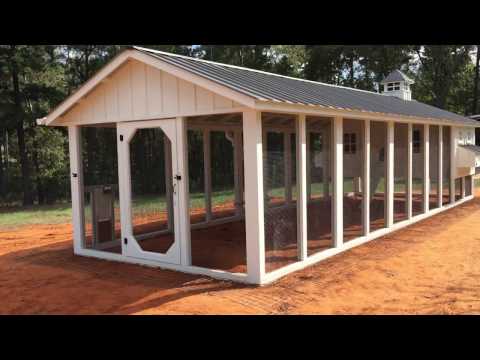 Custom Chicken Coop by Carolina Coops
This video is about a 10' by 30' custom coop we built for a customer in Jacksonville, Texas.
What You Don't Want in Your Chicken Coop
Here is an example that may sound good to people brand new to backyard chickens but it's not.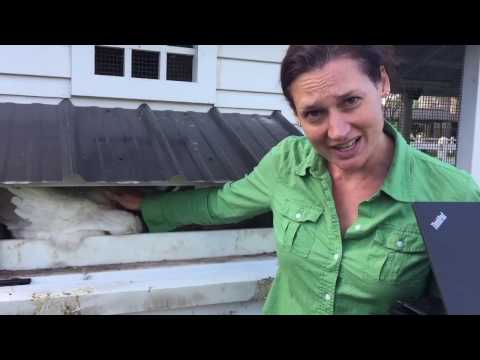 Letting the Chickens Out
We let the chickens out of their custom chicken coop for the first time at Fearrington Village in Pittsboro, NC